Water Well Drilling
Everything You Need to Know About Water Wells & Well Drilling.
Why drill a water well?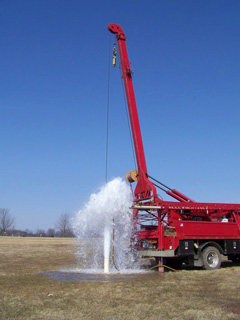 A safe and clean water supply is vital to your home or business. However, many homes are not served by public water systems. When public water systems are not an option, private water wells provide clean and safe water for many families in the area. A professionally installed water well system raises a home's resale value significantly.
To get a quote for a new water well system or repair of your current system, call the Mike LaLone team at 866.620.0550.
Can I drill my water well myself?
The first step in drilling a water well is groundwater exploration, which is not a simple process. Finding the right place for your water well is incredibly important to ensure that your well produces the needed water for your home or business. We use scientific methods to locate your well in a place where it will provide the most water. In addition to finding an adequate water source, wells should be located a specific distance from sewage systems and other structures. A misplaced or improperly installed well can mean considerable costs down the line and lost time long term by having a professional re-install your well.
How do you choose the right well drilling company?
First and foremost, make sure that the company is licensed and insured, Michigan state certifications ensure that companies follow safe drinking water standards. Don't immediately go for the lowest price around, typically a discount well company means low-quality work. If your well does not function properly, it can be incredibly costly to repair and can make your home temporarily unlivable.
How much water will I use on average?
When determining your water usage needs be sure to consider not only your daily usage for cooking, bathing, and appliances but also seasonal use for things like lawn and garden watering or swimming pools. The Mike LaLone team will consider the rate of yield for the well, the diameter and depth, as well as the standing water level in the well to determine if the well pump system will be able to meet your usage needs. A conservative estimate is that most 4 person homes will need approximately 300 gallons per day as well as the ability to produce 7 gallons of water per minute.
What are irrigation wells and who would need one?
Irrigation wells supply water for lawn or field irrigation, an important and challenging job - as a large quantity of water is needed in a short time span. Irrigation wells need to produce enough water during peak seasons and quick enough to maintain the sprinkler system. Using a constant pressure system ensures a balanced and evenly distributed water flow from your irrigation system. Irrigation is important to farmers, business owners, and others who need to make sure that their property always has access to clean, safe water.
How can I protect my water well?
Regular testing and maintenance along with quick response to any potential problems can ensure a long and efficient life for your well pump system. We are open year round with 24-hour emergency service to address repair issues right away and save homeowners money in the long term. Low water pressure, increased electricity or gas bills, and odd smells coming from your water are all reasons to have your well assessed. Our team is specialized in residential water well and pump repair, adding special machines to our fleet to minimize lawn damage.